Seattle Hempfest Traffic Crew needs you!
Without our super amazing Traffic Crew Seattle Hempfest would not be able to manage the 30 suppliers & over 300 vendors that load in and out of the park each year.  This is a mission critical team that is crucial to our success!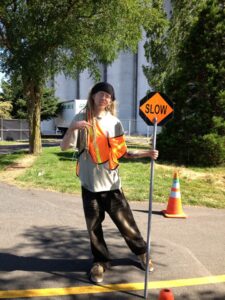 What is Traffic Crew?  Traffic manages the flow of vehicles as well as pedestrians inside the park as well as  the loading in/out of suppliers & vendors outside the park.  They also manage our northern parking area and keep it secure.
When would I be volunteering?  Shifts start Monday August 14 and run through Wed August 23.  We especially needs lots of help when we start loading in/out our vendors Thurs 8/17 through Sunday 8/20  We have round the clock shifts available.
Why should I volunteer?   Hempfest is a labor of love and lot of fun to be involved with. You get a Hempfest staff shirt as well as a meal for every shift that you work.  You'll also get  the warm fuzzy glow that comes from working with others to change cannabis laws that is the spirit of Seattle Hempfest.  It's catchy!  
Ok, I want to sign up.  What do I do?  If you'd like to be one of our awesome 16W Monitors & help manage our parking area  you can sign up HERE.  
If you'd like to rock the night shift and keep our Centennial Park Entrance safe overnight you can sign up for the Centennial Night Watch Crew HERE 

Our Inside Park Monitor positions can be signed up for HERE  
You can also email us at [email protected]

Volunteer powered since 1991