History was made today with the House Judiciary Committing voting 24-10 to approve a bill that in effect ends cannabis prohibition.
HB 3884 Marijuana Opportunity Reinvestment and Expungement Act of 2019 will federally decriminalize cannabis by removing it from the Controlled Substances Act and would require the expungement of past federal cannabis convictions.
Of course, my head immediately goes to Jimmy Romans and the many other people serving life or sever sentences for something that is now legal for over 78 million Americans to use recreationally. Will they be freed? No, but baby steps!
My curiosity is peaked as to what are the next steps, baby or otherwise? A committee has voted to approve something, where will the Bill go next? How do we help get it pushed through?
This bill has great support with 57 sponsors. Is your Representative on the list? Mine is! I'm super proud to see Representative DelBene on the sponsor list. How do you find out who your Representative is? Search here, you'll also find information about how to contact them so you can ask them to please sign on as a co-sponsor of HB 3884.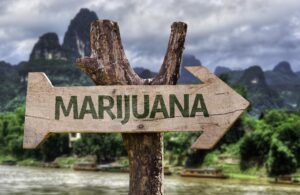 HB 3884 was actually introduced on July 23 and was referred to the Committee on the Judiciary, and in addition to the Committees on Energy and Commerce, Agriculture, Education and Labor, Ways and Means, Small Business, Natural Resources, and Oversight and Reform, for a period to be subsequently determined by the Speaker, in each case for consideration of such provisions as fall within the jurisdiction of the committee concerned.
In August it went to the Referred to the Subcommittee on National Parks, Forests, and Public Lands by the Committee on Natural Resources and the Judiciary Committee referred it to the Subcommittee on Crime, Terrorism, and Homeland Security. I cannot find any committee reports online so it's not clear to me what pushed the Judiciary Committee to vote today.
Today's historic vote means HB 3884 can go to a full calendar vote but will most likely go to the Rules Committee before reaching the floor,
which is standard. That's why it's important to contact your Representative as well as the Speaker of the House, Nancy Pelosi, and ask them to support this by sponsoring and taking it to a full house vote!
Luckily there is a companion Senate bill already, S.2227 It only has 5 cosponsors and my Senators are not on the list! You can rest assured I will be contacting my Senators and asking them to not only cosponsor this bill but to ask them to move it to their Judiciary Committee for a vote, especially since the House has passed it.
Keep excited everyone, but eye on the prize! We the people need to stand up and tell our federal legislators what we want! Be the power that knocks prohibitions wall over once and for all!
End cannabis prohibition, expunge records, and set those serving federal time for cannabis free!