Death in prison: The case of Richard Flor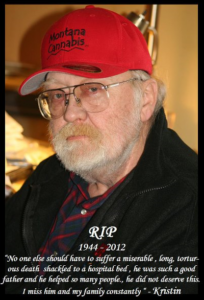 All of our plant prisoners, especially our life prisoners risk death behind bars. For Richard Flor, death in federal custody was unimaginable. The first registered caregiver in Montana, Richard co-owned five dispensaries, and because of federal laws, he fought for his life and our rights every day in prison. He was a Vietnam veteran and a co-owner of Montana Cannabis, one of the state's largest medical marijuana providers until it was raided by the DEA March 2011.
On April 19, 2012, U.S. District Judge Charles Lovell sentenced Richard Flor, age 68, to five years in prison, and his wife Sherry to two years in prison. Richard Flor tried to take his case to trial, but he was very sick, and 87-year old-Judge Charles Lovell would not let him take his case to trial because the federal systems doctors said he had dementia, and forced him to take a plea.
Flor was so sick with many illnesses that at the time of sentencing he couldn't physically walk. The judge sentenced him to a medical facility, but he never made it, they kept him in general population in a private prison, he suffered eight broken bones, and was living with miserable and unbearable pain all over his body.
Regardless of his constant cries for help, the nurses accused Flor of faking it. As diabetes and all his other medical problems rapidly spiraled out of control, they refused to take him to a real hospital for help and was denied most of his medications. They never gave him a wheel chair and sometimes took his walker from him. After four months of neglect and mental abuse, he suffered two major heart attacks during transport. His daughter Kristen had to fly to Las Vegas to remove his fragile body from the life support.
Richard died in federal custody in a private prison facility in Vegas on August 30th, 2012. He was still cuffed to the hospital bed when he left this earth with only his daughter by his side. The autopsy declared that his cause of his death was un-diagnosed colon cancer and organ failure. And, after 37 years of marriage, his wife Sherry was not released from prison to grieve over his death. They forced her to spend her full sentence in prison. To this day, his family has not had a funeral and will wait until all pot prisoners are released to have a funeral to celebrate his life.
All of our prisoners risk a nasty death like this in prison, especially our sick and our lifers. While we celebrate what may seem like the end of prohibition, these people continue to suffer. We cannot let this suffering go on.
Update: Prison operator sued in death of former marijuana provider