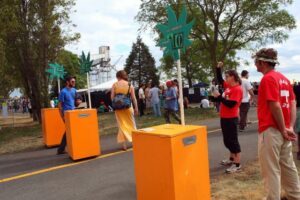 The Greeters Crew is one of our most important crews at Seattle Hempfest!
After standing in that long hot line to get in, the joy in the crowd is palpable upon reaching the donation bins at the entrances. A friendly face welcoming people in makes all the difference in the world to their Hempfest experience, and a quick sound bite from our Greeters about how a donation makes Hempfest possible – Hempfest is, after all, a volunteer-based grassroots local nonprofit – that encouragement really makes a difference in our donations from attendees!
One of our Sponsors has provided gorgeous big ol' shade umbrellas for our Greeters to make the job more comfortable. You bring the smiles!
https://signup.hempfest.org