We spent an awesome day in Olympia yesterday registering attendees to the ASA Medical Cannabis Lobby Day.
Unlike last year, I found legislators eager to hear what I thought of the two major competing medical bills, SB 5052 & SB 5519. Today HB 1698 was introduced which throws a third medical dispensary model in the ring.
Our Legislature is ready to tackle this issue – whether we are or not!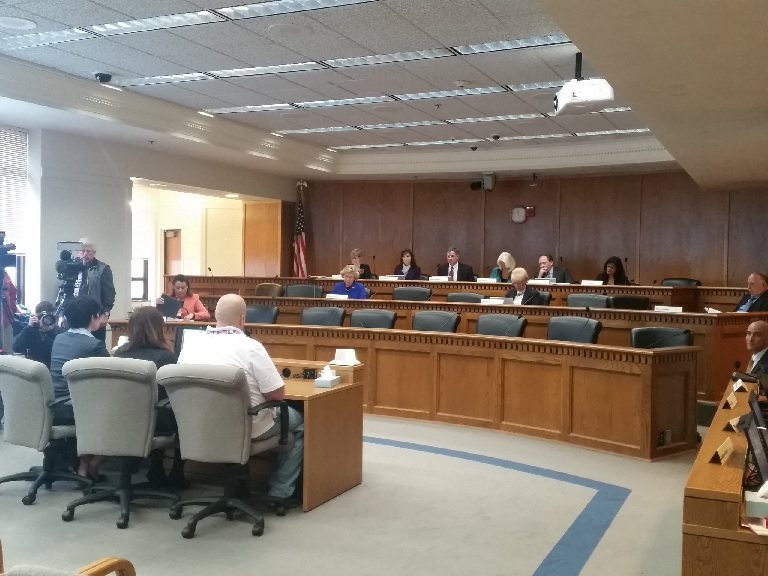 Let me walk you through how to interact with the States website as I've given you links to each bill below.
SB means Senate Bill.  SB's are originated by our Senators.  We each have one Senator.
HB means House Bill.  HB's are originated by our Representatives.  We each have two Representatives.
We're going to use SB 5121 as our example.  SB 5121 is about establishing a marijuana research license so that cannabis researchers can grow the cannabis they are doing studies on.
Here's an image of the screen you'll see when you hit the link.
"History of the Bill" tells you who the sponsors are and hyperlinks you to their page.  It also shows you what has happened to the bill on what date and hyperlinks you to more information about these events.
I always read the "Original Bills" under available documents vs the "Bill Digest" as I want to see everything they are saying but the "Bill Digest" gives you a very short description to help wade through the list.
The button I want to point out most is the "Comment on this bill" button.  It's under the big yellow box near the bills Name "SB 5121 – 2015-16" This button takes you to a screen that allows you to comment on the bill.  The comments go to your Districts Senator & Representatives as well as the Bill's Sponsors and any Committee Members who are reviewing the bill.
The most effective way to communicate with them is in their language.  For example, If I don't like the wording in Section  1, item A, state what you don't like and how you would change it.
Don't be emotional.  Be factual and tell them specifically what you would change by section.
Now let me introduce you to some of the other legislation working its way through Olympia.
First are the three that deal with how medical cannabis is dispensed and what to do with our medical cannabis industry.
SB 5519, would allow dispensaries a path to I502 compliance, allow everyone to grow 6 plants
HB 1698 creates dispensary system, allows home grows
SB 5052 creates a separate medical system but does not allow for dried cannabis sales, does allow medical grow
Next are a variety of Bills for both medical & recreational cannabis.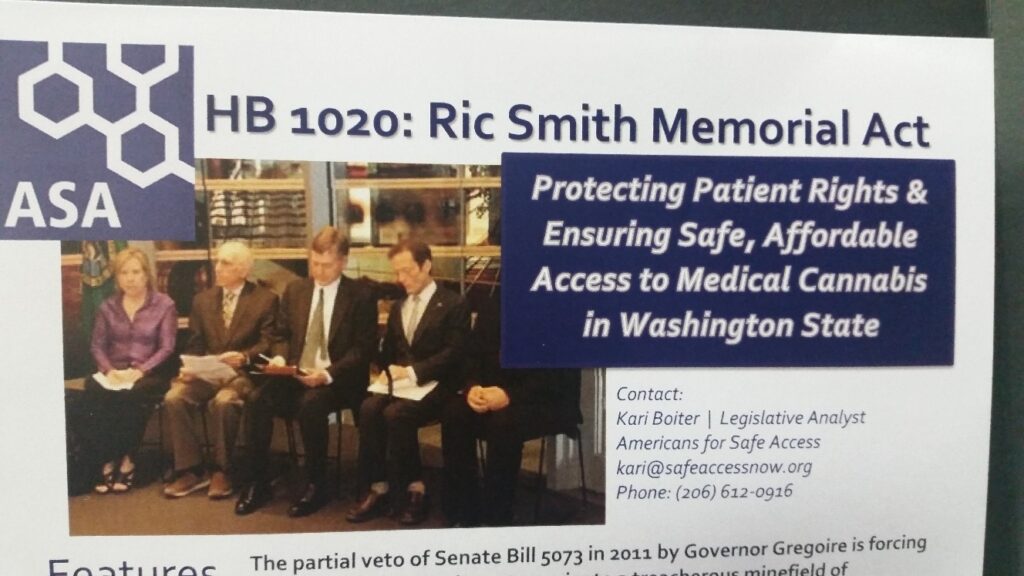 HB 1520 requires a finding of guilt prior to the  forfeiture of private property
SB 5051 & 5572 clarifying transportation and delivery services for marijuana producers, processors & retailers.
SB 5379 Adds PTSD to the qualifying conditions
HB 1020 makes a  qualifying patient's medical use of cannabis may not be a sole disqualifying factor in determining the patient's suitability for an organ transplant among other things.
HB 1041 & SB 5461 Providing for the vacation of misdemeanor marijuana offense convictions
HB 1165 Sharing cannabis taxes with local jurisdictions
HB 1334 & SB 5003 Concerning the taxes payable on rec marijuana
HB 1335 & SB 5417 Permitting cities to reduce the buffer zone
HB 1359 & SB 5402 Addresses marijuana violations of persons between 18 – 21
HB 1360 & SB 5398 Concerning marijuana use in public
HB 1361 & SB 5401 Allowing the Washington state liquor control board to accept donations for funding informational material for the purpose of improving public awareness about marijuana consumption.
HB 1411 Concerning the siting of marijuana facilities
HB 1412 Concerning municipalities prohibiting the operation of recreational marijuana production, processing, & retail facilities
HB1413 Revising licensing regulations pertaining to the buffer distances required between recreational marijuana businesses and specified public and private facilities.
HB 1414 Exempting marijuana producers from taxation for sales to other producers of marijuana seeds and cloned marijuana plants.
HB 1418 Providing for the enforcement of illegal marijuana production.
HB 1438 Permitting cities, towns, and counties to prohibit the production, processing, and sale of marijuana under Initiative Measure No. 502 only by public vote.
HB 1461 – Very vague, only says relating to marijuana
HB 1650 Clarifying provisions regarding the seizure and disposition of marijuana and processed marijuana products by state and local law enforcement agencies.
HB 1673 & SB 5245 Concerning substance abuse prevention and treatment programs funded by the marijuana excise tax.
SB 5002 Concerning traffic infractions for marijuana, marijuana-based substances, or marijuana-infused substances.
HB 5051 Clarifying transportation and delivery services
SB 5130 Restricting marijuana producer and processor businesses from being located in certain residential and rural areas.
SB 5450 Adding churches and licensed chemical dependency programs in the buffer distance requirements of recreational marijuana businesses.
SB 5467 Providing a single point of excise taxation on sales of recreational marijuana.
SB 5493 Distinguishing cannabis health and beauty aids from marijuana.
What a long list right?
Imagine being a legislator trying to make the right decision.  That's why concise comments that speak directly to the bills language work best when communicating.
I am going to try to find someone to help me track each of these lovely bills so we can keep everyone informed where these go!
You can make a list of Bills you'd like to track HERE
You can read more about contacting your legislators in both Washingtons HERE
I gotta go do some reading!
Choi'